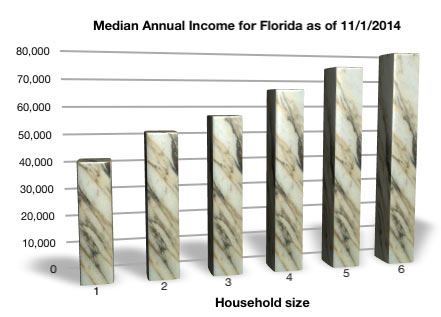 The U.S. Trustee's office has announced new median income figures that take effect November 1, 2014. For residents of Florida residents, the news is mostly good news. These numbers represent maximum income levels for households of different sizes. Members of households with annual "gross" (before taxes are taken out) incomes at or under these numbers are very likely to qualify for Chapter 7 bankruptcy if they wish to do so.
Here are the new numbers, compared to those for the prior time period:

Analysis: Higher numbers are better. Why? Think of the beach limbo dance where contestants have to get under a low bar. The lower the bar is placed, the harder it is to get under. So higher is easier. In this analogy, successfully getting under the bar almost guarantees you will qualify to file Chapter 7. If you can't get under "the bar", it gets more difficult to qualify for 7 and, if you can't pass another test ("means testing") your only choice may be Chapter 13. As a result, when the median income figures rise, as most have this time, more people can qualify for Chapter 7.
Looking at the new figures just released, the only group for which the numbers worsened is debtors with a household size of 2 and this group lost about $1,000 in gross yearly income. All other household sizes income figures increased, the best numbers posted by households of 3, the increase here 4.22%.
Households of 4 did next best, increasing by 3.65%. There is extra importance to the changes for households of 4 because all household sizes above 4 are built on the household 4 base. For each additional member over 4, we add $8,100 annual income. So all households, from 4 on up will each enjoy an increase of over $2,300 annual income.
The next revision of these numbers will likely be announces somewhere around April to May of 2015.